Deep in the Sauce
It's about sauce, food, & everything else.
Written by Tom
It's been a couple of days and they have been very busy ones but, I finally have some time to sit down and share the craziness of everything.
Day 16, Friday, started early. We knew it was going to be a long day so we got going right away. First stop was the shop to pick up sauce and supplies with one truck. We ran back home, dropped that truck off, picked up a different truck, then headed out to a different town to pick up our meat, parsley, lettuce, snacks, and ice. My favorite part of that was going through a box of brisket at the meat shop to pick out the one I wanted. In retrospect, I wish I would have been able to do the same with the pork. I wanted farm fresh chicken but, that didn't happen. We ended up just picking some up from the grocery store instead. At this point, I was on the Fence with chicken anyways. We had gotten pretty good at doing it but, I knew it was one of those flukey categories where, even if you did it all great, it might not meet a judges ideals of what chicken should be.
With the meat on ice and all the other groceries loaded into another cooler, it was time to head home and get the trucks loaded up. We broke the loads up into stuff we would need to set up the site and cook: Tables, pop up canopies, smokers, grill, charcoal, propane torch, meat cooler, cooking box, utensil box, and all the accesories to go with the smokers. And, in the other truck, we loaded up sauce to sell and stuff we wouldn't need until later: Garbage can, bricks for the canopies, sleeping bags, more charcoal, barricades for our site (just in case), extra lights, chairs, and pretty much anything else we couldn't fit in the first truck but didn't need right away. It took us longer than it should have to get the trucks loaded up. We kept remembering stuff that we had forgot. Also, it would have helped if I had cleaned out the smokers a couple of days before but, because I didn't, I ended up having to do it right then. It ended up taking an hour longer to get on the road than we had planned.
My wife and I dropped off our kids at the sitter and headed out in the "site set up/cooking stuff" truck. The plan was for us to get there and get the cooking side of the site set up and make sure to get everything rolling for getting our sauce entry in and the meat prepped. Later on my mother-in-law and sister-in-law (MIL & SIL) would arrive with the other truck. The drive down went rather smoothly considering there was road construction everywhere and we had to stop and tie down the lid of the grill once. When we got to the Race Track where the competition was being held, there was a little confusion as to where exactly we were supposed to enter. When in doubt, look for someone driving around a golf cart that looks like event staff. That's what we ended up doing and within a few minutes and a slightly akward u-turn, we were headed into the competition area and being shown our way to our site.
We had been shown to our site but, we still needed to check in and get our meat inspected. Off I went to get checked in while my wife stayed at the site and started to unpack the truck. The check-in process was rather interesting. I actually had to get checked in twice, it fealt like. The first thing I did was check in at the judging tent then I was told to go over to a trailer and check in there as well. At the tent, we got our turn in boxes. At the trailer, we confirmed our KCBS registration info and got our passes to wear to show we were part of the competition. I kept asking about meat inspection and finally was informed that there would be inspectors roamng around. By the time I got back to the site, my wife informed me that the inspectors had already been there while I was gone and that they were nice enough to jump into the truck to check out the meat insteady of asking her to try to pull out our meat cooler all by herself. With the check-ins taken care of and the meat inspected, one would think that we had some time to breathe but, one glance at the clock and I already had to head to the cooks meeting.
The cooks meeting was an interesting event. Most showed up with drink in hand. I wish I would have. We received a goody bag and a shirt upon entering. There were already plenty of cooks already inside the tent when I arrived but, there were still a handfull of seats left so, I just picked one at random. One thing I quickly realized about these competitions is that they aren't for the timid or shy. The cooks meeting went as you would expect it to. They talked about the event and the gracious hosts of it. The schedule of everything. The special category criteria. And, then there was an issue that came up with the possibility of horses needing to cross at turn in times. If that occurred, turn ins would be allowed on the other side but had to be in earlier. At first, most would think this wouldn't be a huge issue, however, many of these competitors are very serious and immidiately pointed out how if anyone turned thiers in on the otherside of the gate then there was the chance that their turn ins wouldn't be judged by the judges as soon as everyone else's and therefore would be colder than the others. There was back and forth in regard to the matter and finally it was decided that the judges would be informed that they were not allowed to downgrade anyone's entries based on temperature. Everyone seemed to grumblingly approve of this decision and the meeting was ajourned. I might note one other thing. First time cooks are asked to stand up and show themselves during the meeting. To which they are applauded. It was very cool but, completely unexpected.
When I got back to the site, my wife had finished setting everything else up that we had brought with us. The only thing left for us to do was to get ready for the sauce turn in at 8pm, the mixing of injections, and any possible meat prep I wanted to do. The injections were mixed up and then pretty soon it was time to start working on the sauce. I mixed up a special blend for the competition and before I knew it, it was time for my first turn in!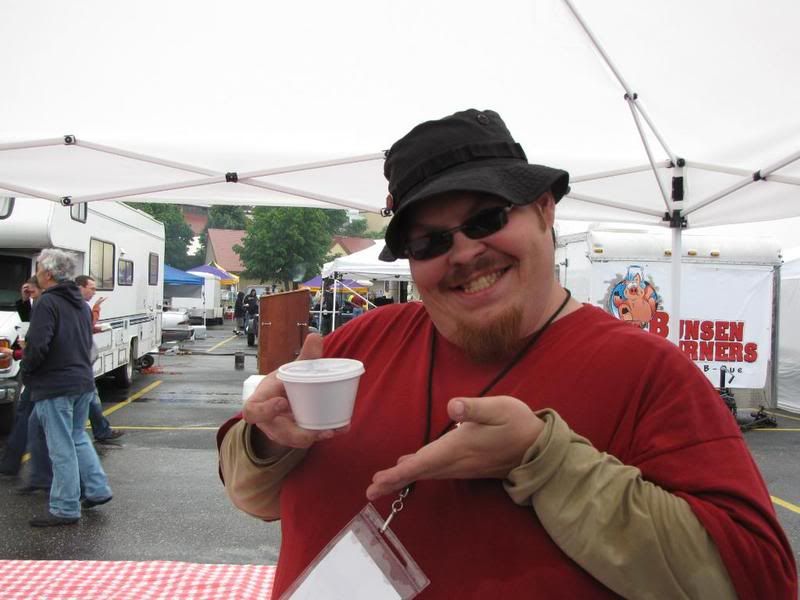 The only unfortunate thing was, after the sauce was turned in, we had to wait for the other truck to show up so we could finish fully setting up our site. It wasn't much longer though and they were there and my wife was relieved to not have to deal with "Mr. Serious" by herself anymore.
With the rest of the site set up, it was time for some family bonding and silliness.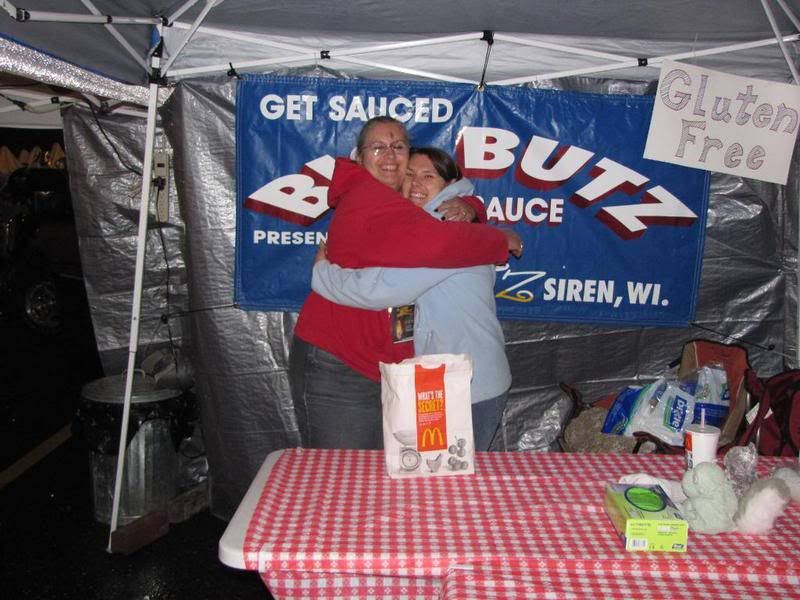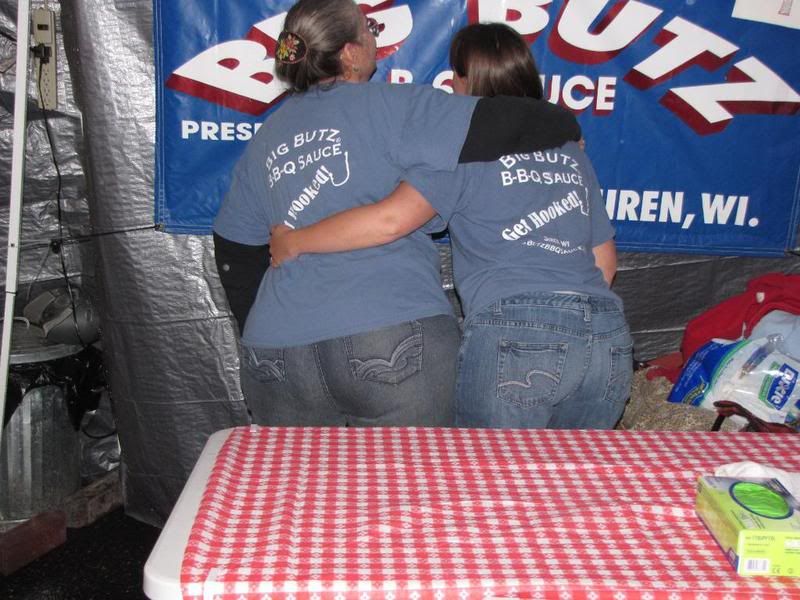 Yes there was even fun with mascots and good luck items.
For me though, it was time to get to injecting the brisket and butts. Since I had mixed up the injections before hand, it went pretty quick. Unfortunately this was the first real look I'd been able to have at them outside of the cryovac. The brisket looked very good but, the buttz were rather lacking in one thing and that was a fat cap. Now, I've cooked butts without the fat cap on them before but, have never had one I picked up not have one on it to begin with, much less two! I tried not to think about them too much as I finished injecting them and then got it all put away in extra large ziplock bags.
At this point I decided to veer of schedule a bit. We had some friends from The BBQ Brethren stop by and say "Hi!". I had planned to be working on chicken and ribs at this point  but, figured they could wait. It was great getting to talk to friends and fans for a bit.  We also realized that we hadn't done two things yet, eaten dinner and checked into the hotel.  I wasn't staying there but, the room was reserved in my name. My wife and I headed out to check in and grab a bite after our friends had left. I have to admit, I was a little jealous when we got to the hotel. It looked like a really decent place to stay the night and they ended up getting a poolside room. After that it was time to find something to eat. The only option, McDonald's. I wasn't thrilled about this but, at this point I no longer cared where we got food from. We hit up the drive through and then headed back. During this time I heard from another friend of mine who lived in the area and he said he was going to stop by and hang out for awhile. We got back and I could see the tired in everyone's face. It had been a long day for everyone but, it was still far from over for me. The time to light the first smoker had come though.
Out came the propane torch and the coals got lit up. After 5 minutes or so, it was time to dump them in and get the first smoker chugging away. With the coals in, I took the brisket out to get it trimmed up then went to slather it, only to find that I had forgot the slather at home. Nothing to do about it then. It would have taken me too long to go anywhere to pick up more. So, I took a deep breath and decided to skip the slather and hope for the best. While the brisket was waiting to go on the smoker, my friend showed up and the ladies decided to head to the hotel. The brisket went on around midnight. The butts then came out and got their slather, which I remembered, and rub down with some Rub.  I was worried about there being a big enough flavor from the rub so I not only rubbed the butts once butt a second time just before they went on the UDS (smoker) along with the brisket. My friend stuck around until about 1:45am. Come 2:30 I was scheduled to go to sleep and I was severely tired. Unfortunately the remote thermometer for my brisket was not wanting to cooperate and kept cutting out every couple of seconds. Luckily, I did have a back up with. The backup got plugged in and after a few minutes it appeared to be working just fine. I plugged the alarm clock in, set it for an hour, layed the seat back in the truck, grabbed a pillow and blankets, and proceeded to pass out. The sleep wasn't the best I've ever had but, it was atleast some sleep. Over the next three hours, I kept waking up every hour, checking the remote thermo, and going back to sleep. Come 5:45am, there was no more fighting it. It was time to get up and start the day.
Day 17: Competition Day
When I finally managed to get myself moving, after checking all the thermometers, I went to work on getting the chicken soaking in some brine. It was a nice activity to do in the early morning. Mixing up everything reminded me of cooking breakfast at home. With the chicken squared away I had a bit of down time. Pretty soon though, My wife, her mom, and sister showed up and it really helped to bring the energy into the day. I got another chimney of coals going and started to work on the ribs. Normally, butchering up ribs is one of my favorite activities but, when I got to the removing the membranes on these it seemed like it took forever. While the Second UDS was warming up the ribs got slathered and salted. I decided to not let some rib scraps go to waste so, another chimney of coals got lit to fire up the grill. The ribs went on and then it was time for some breakfast. Lucky for us, breakfast was provided for all the competitors by the race track. It was nice to break away for a minute with my wife to just take a nice stroll and grab some food. We didn't stay an eat but took it back with us to the site so her mom and sister could go grab some as well. The grill was ready to go by this time, so I through on some of the rib scraps before diving into my breakfast plate.
While i was rocking and rolling on the cooking side of things, the ladies got the sauce selling side of things up and running for the day.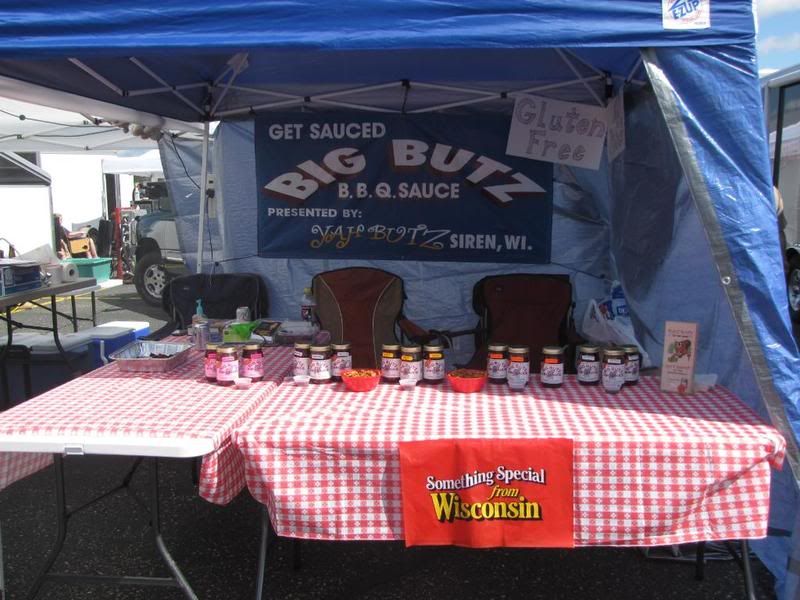 I was suffering from some major caffeine starvation so, I ran to the gas station to pick up some and when I got back, my wife started working on the chicken. I completely trusted her and left her to the task of getting everything trimmed up and ready to go. It was getting close to the time for the chicken to go on and surprisingly, everything seemed to be running on schedule. The chicken went on and the mascots/lucky charms went up into place.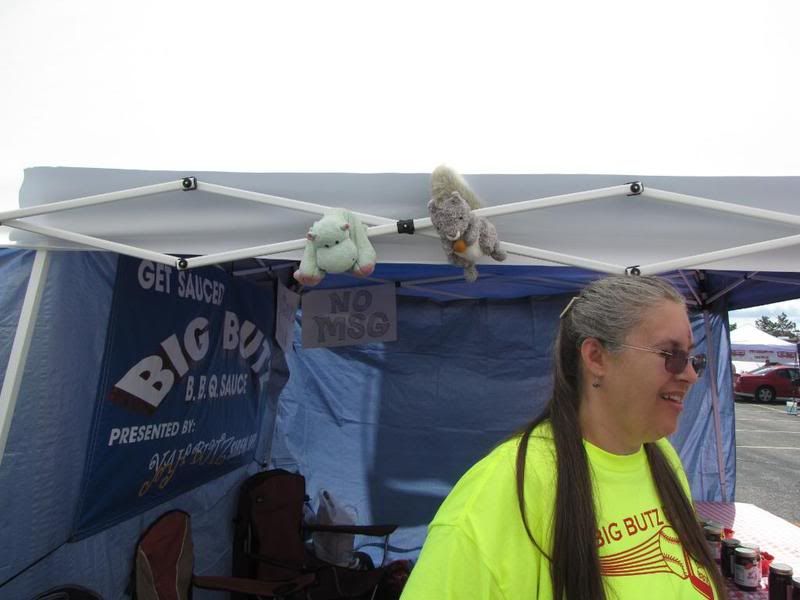 It was important that they had a clear view of the cooking area.
Once everything is on and cooking away, there is an unbelievable amount of nervousness that kicks in. Everything could be going perfectly fine and yet, I'm waiting for the shoe to drop that throws everything off kilter. This is when having a schedule really helps. Just stare at the schedule and keep telling yourself, you need to wait and that it's not time yet. My wife took care of every part of the chicken and that made me feel pretty good. Normally I'm a huge control freak in these situations but, having her in it, taking part in it made it really feel awesome. With it coming up on the last hour before our first turn in, things got really busy. I had brisket and butts to pull, wrap, and dry cooler. The chicken had to be checked on about every 20 minutes. The turn in boxes had to be prepped. And, at the end of it, chicken had to be turned in. The chicken looked really good and one thing I have to say about our turn in, is that to me, it looked like real honest to goodness BBQ Chicken.
The box was loaded into our thermo travel bag and I took deep breaths as I walked it over to the turn-in table. I got it there and then it was time to get back and get the ribs sauced up and ready for their turn in. After 20 minutes, the ribs came off, got sliced, and boxed up for turn in.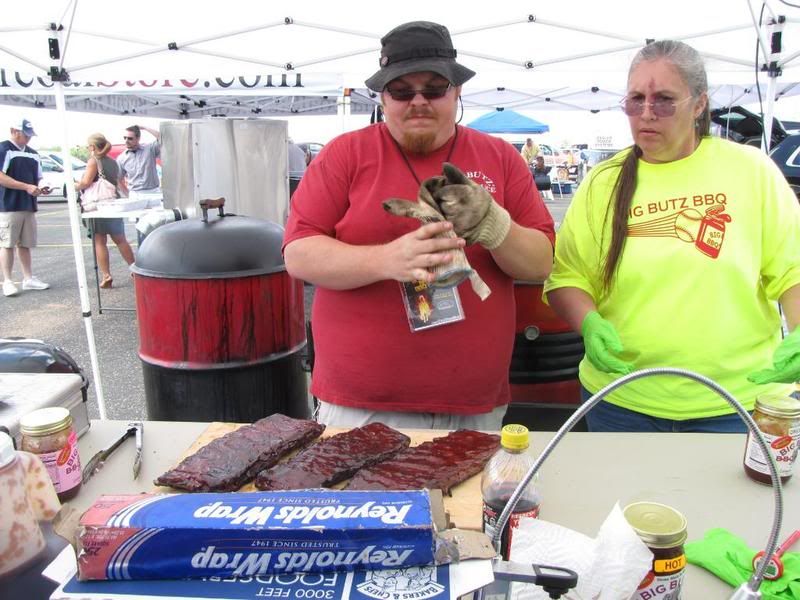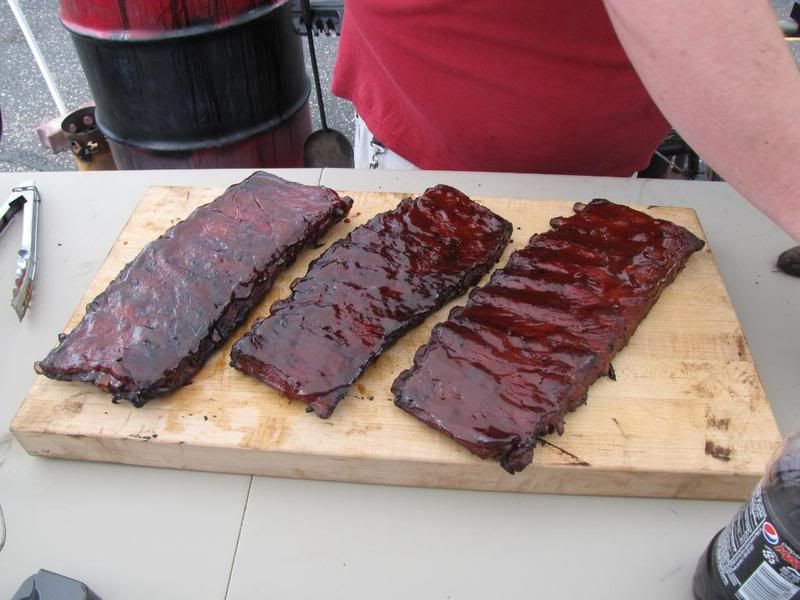 That shine is such a magical thing.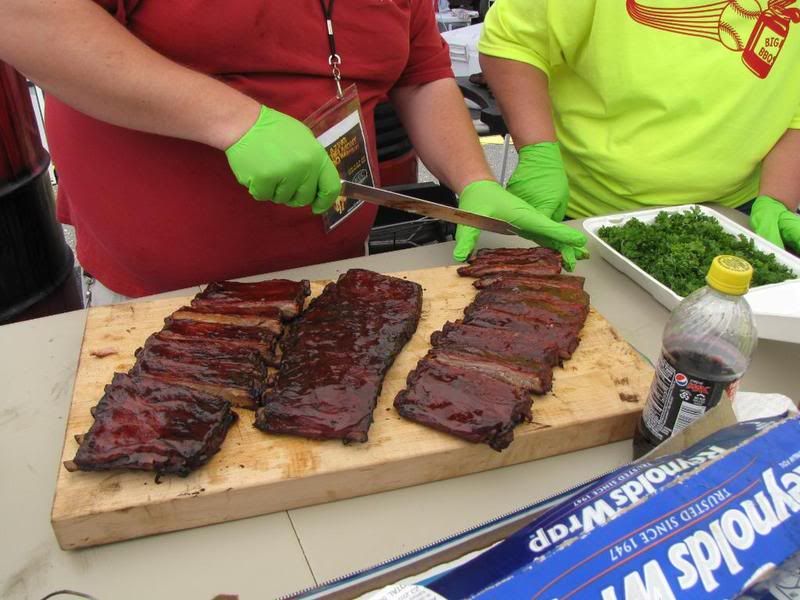 The one unfortunate thing about the ribs was the miniscual smoke ring they had. I have no idea how this happened but, it was something that plagued me for the entire day. After I turned in the ribs, it wsa major hurry up time. I had brisket to seperate, cube the point, pan, juice, and return to the smoker. Also, it was time to take out the butts and figure out exactly what I was going to do with them. After a thurough inspection of both butts, I was not happy. They both were not worthy of turning in. I ended up having to just pull one as best as possible and get it sauced. The restults weren't bad butt, I shouldn't have double rubbed them and I should have gone a little heavier on the sauce.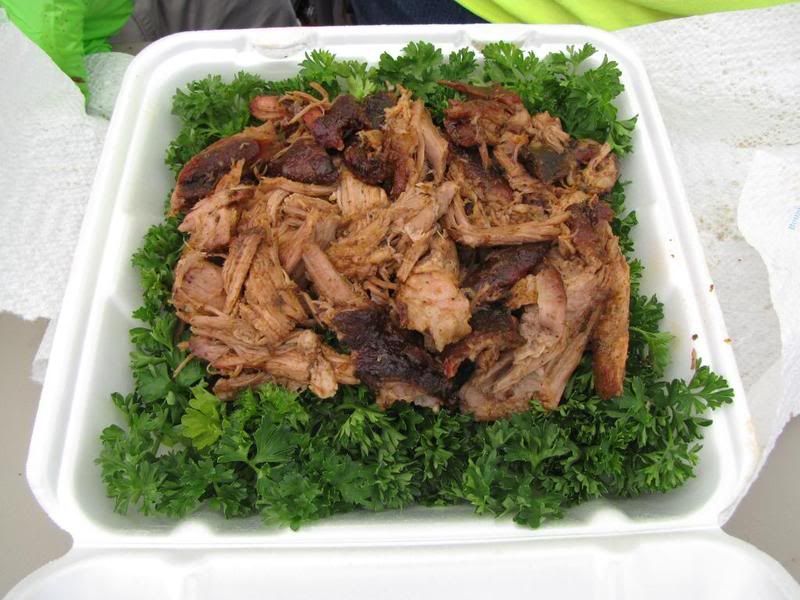 After getting the pork turned in, it was time to hurry back to our site and wait. It was 20 minutes that seemed to last, forever! But, the time finally came to slice up the brisket and get the last entry boxed up. On the upside, it was the best brisket I have ever cooked but, it still wasn't quite as tender as I would have liked.  And it was plagued by that barely existant smoke ring problem everything else seemed to have.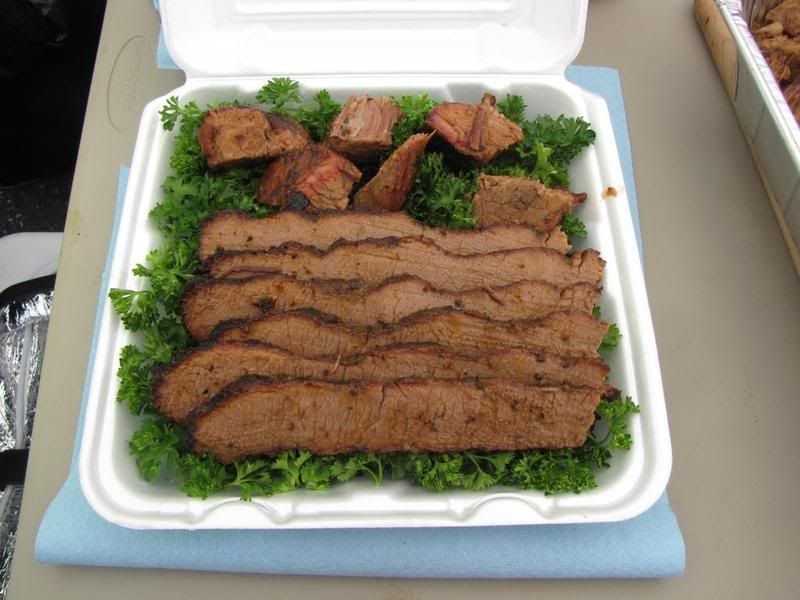 With the last entry turned in, it was time to kiss my daughter's "baby hippo" for luck (as per her instructions) and hope for the best.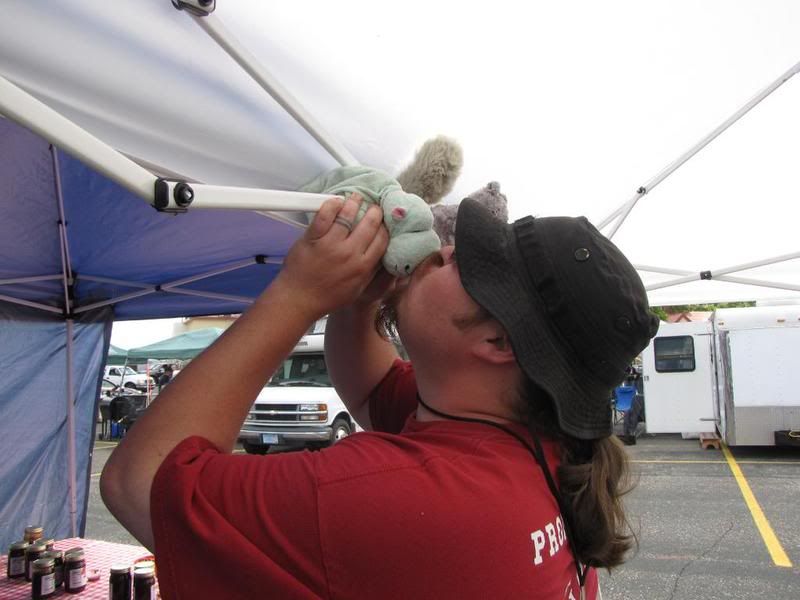 The wait for the awards ceremony to take place wasn't nearly as bad as I thought it was going to be. We had quite a few customers come through and wanting to talk about the sauce. Everyone was great and it's always nice to get some new fans. Plus, I ended up getting to talke to some friends from Twitter and some more of The BBQ Brethren.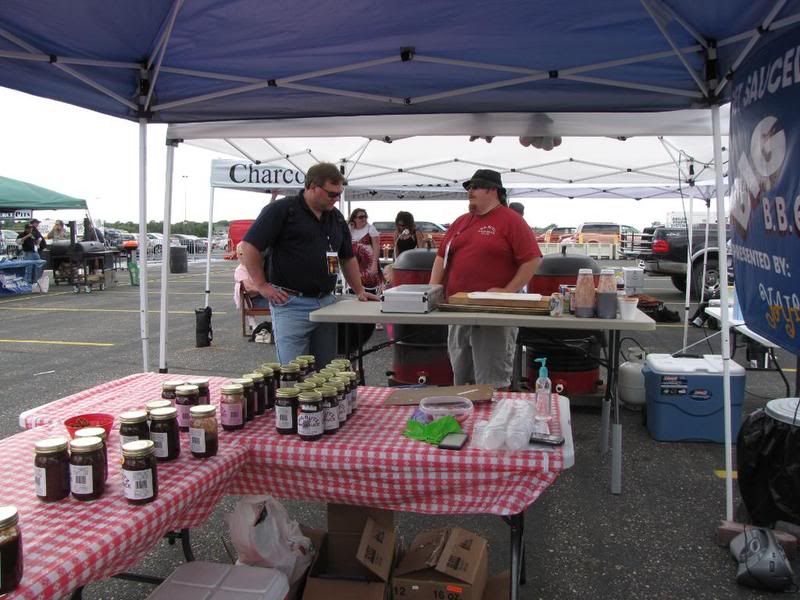 I have to say, I was surprised by how much buzz my UDSs were getting. People were really liking their home made look and asking me all sorts of questions about them. I think people appreciate that they are something a person builds and doesn't just buy, also, when they tasted some of the meat that came off of them, I think they were really surprised by the results they can produce. Before I even knew it, it was time for the awards ceremony.
For the awards ceremony, they started off by announcing the people in 10th-2nd place in the extra categories. The only one we had entered was the sauce one. You can imagine how hard the nervousness got ramped up when they announced 10th-2nd for sauce and our name wasn't called. The only thought going through my head was, either we got 1st or we really sucked and I shouldn't have come up with something right then on the spot to enter.
Once they were all called out, they went back and did the 1st places in the extra categories. When they called us as 1st in sauce, I was so relieved and excited. Unfortunately though, I knew we weren't out of the woods yet, there were still the "big 4" to be announced that we had entered. I knew that our odds of getting tops in any of those 4 categories was slim to none but, I had hoped to get a top 10 finish in atleast one of them. However, it wasn't meant to be. Our name was never called. There was a huge amount of talent that did get calls and I was honored to be in the same competition with them.
After the awards were handed out, There were 10-90's that needed to be filled out and pictures to be taken. We also recieved the packet that had all of our scores in it. These were our scores. In KCBS juding 1 is considered disqualified, 2 is inedible, and 9 is considered something you would walk barefoot across the state in the blazing sun to eat.
Chicken: 7 6 5, 7 6 7, 7 8 7, 7 9 9, 7 7 7, 8 8 8  Overall 53rd
Ribs: 7 7 8, 7 7 7, 8 7 8, 8 9 9, 8 7 6, 9 7 8 Overall 50th
Pork: 8 6 7, 8 8 8, 8 7 7, 9 7 7, 7 7 6, 8 8 8 Overall 56th
Brisket: 8 8 7, 8 7 6, 7 7 7, 8 7 7, 7 8 8, 9 7 7 Overall 50th
Overall Ranking for competition 56th.
One thing I have derived from these scores is that all though our entries would be considered atleast above average, they weren't spectacular enough. On the upside, we didn't come in last, none of our entries were disqualified, and we didn't completely bomb in general. Besides, we did take first in sauce and that did help to show we still know what we're doing.
We headed back to our site to get everything packed up. Most had already packed up their sites and pulled their vehicles into the main parking lot to make a quick exit after the awards. When we got back we found out that people had already heard about the 1st place in sauce and had come to pick up a couple jars of sauce. packing up didn't take nearly as long as setting up and within 30 minutes we were ready to head out.
We got home and unloaded everything. By this point, I was pretty much a zombie but, I did take a minute to take a couple quick pics of the hardware we brought home with us.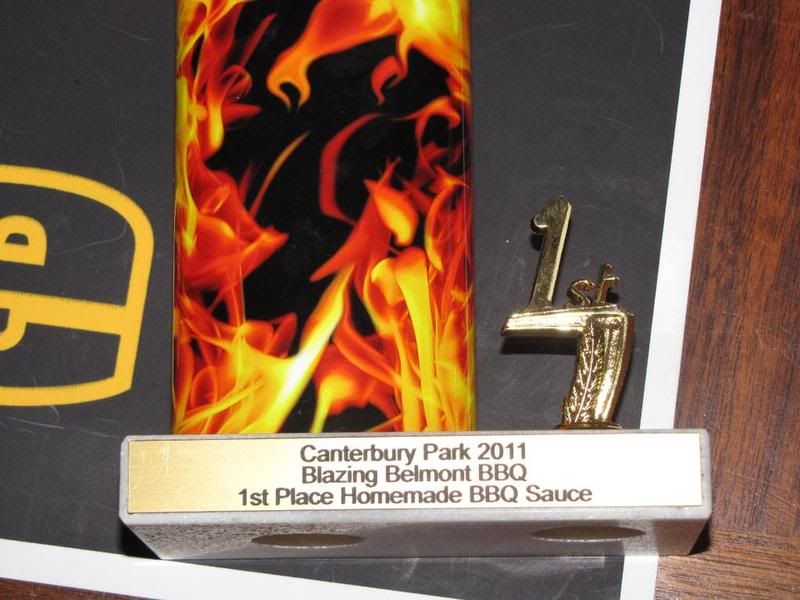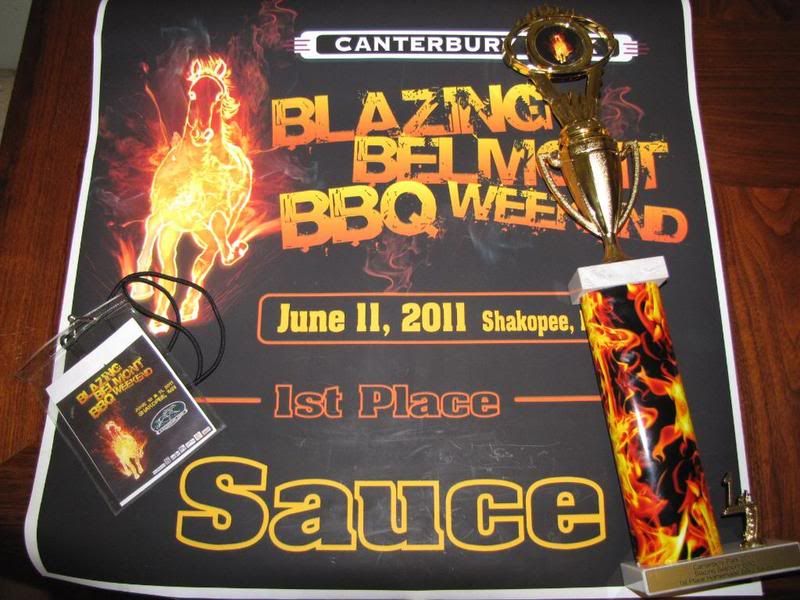 Thanks for following along! It's been a great journey. Stay tuned for the next blog post "The Aftermath"