Deep in the Sauce
It's about sauce, food, & everything else.
Written by Tom
Little late getting this post in for the 3rd day. Ended up going to a wine tasting at a local winery and then enjoying a night out with my wife and some relatives. For the third day though, there have been two things that have been playing heavily on my mind. The first being the weather. It was raining on and off all morning today and it got me to thinking about rain during the competition. I know this is always a possibility but, we only have one EZup right now and that usually is used over the sauce selling area. This leaves me with thoughts of either having to put it on the cooking area or to purchase another one. They aren't cheap but, now is the time of year to buy one so, it will end up depending on if I can find one on sale or not. If I can't then I might end up having to make a tough decision.
The second thought that was on my mind was the cooking of pork. I've found a way of cooking pork that I really like but, it ends up peeling back the fat cap, rubbing the meat down, and then laying the fat cap back down. I put this question to some competitiors and they agree that it is totally within the rules of a KCBS competition but, I should ask a rep when I get there just to be on the safe side.
We got 3 batches of sauce bottled tonight and our stock is looking good for the sauce side of things. We made all 3 of our Hot flavors tonight and when it came to the No butz, clean up was a killer. When we clean the hotter sauces up it's like all the peppers aerosol. It's hard to breathe and your nose is running durning the whole cleaning process. We got it done though and are one step closer to being ready.
I promised you a pic of all the meat we are looking at cooking up for our practice comp and here it is: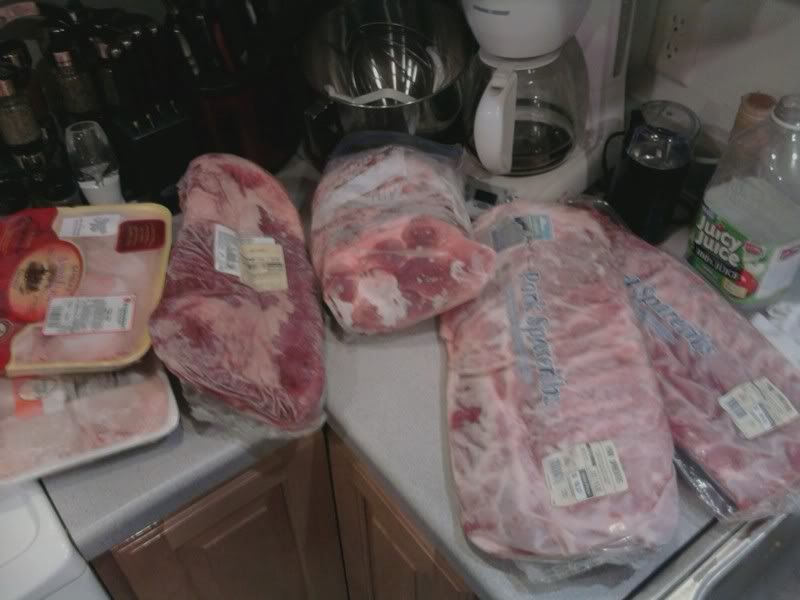 It all looks good, except the ribs have had solution added to them. Ribs is one of the categories I'm the least worried about so this isn't a huge concern right now because, I know the ones we are getting for competition don't have solution added to them.
Looking forward to staring the paractice tomorrow.