Deep in the Sauce
It's about sauce, food, & everything else.
Written by Tom
For Valentine's day I decided to make the most romantic food of all, Tacos!


Okay, they might not be the most romantic food but, that's what my wife and daughters wanted. And, I can't say no to a request from my adoring fans/family/overseers.

Anyways, I love to eat tacos but, find the prep work can be a pain and there always seems to be a ton of leftovers. Leftovers from tacos usually results in nachos one day, possibly more tacos, and then some sort of strange creation usually involving eggs. This time though, I figured I should try something different. Jalapeno Poppers, or ABTs (Atomic Buffalo Turds) as some call them, seemed like a good solution. Me and ABTs have not had the best relationship in the past. It always seems like either my meat to cheese ratios have been off or the meat just didn't add enough to them. The best luck I've had was using pork sausage. Taking a hint from that, I decided that taco meat wouldn't be a bad idea. This is the recipe that I ended up using.

1/2 block Cream Cheese
1/4 cup Grated "Mexican" blend cheese
4 Tbs taco meat
2 Tbs BBQ Sauce
6 Jalapenos cored and halved (could fill about 6 more with stuffing)
12 strips of bacon (1 per each half of course.)
The filling is mixed and then a teaspoon is dropped into each Jalapeno half which is then wrapped up in a strip of bacon. They can be cooked on a smoker or inderectly on your grill. Cook until the bacon appears to be crispy. There may be some cheese that oozes out.
I must say that these were some of the best ABTs I've ever made. My lunches for the week rocked not only because I still had enough fixings for leftover tacos but, I had ABTs with them.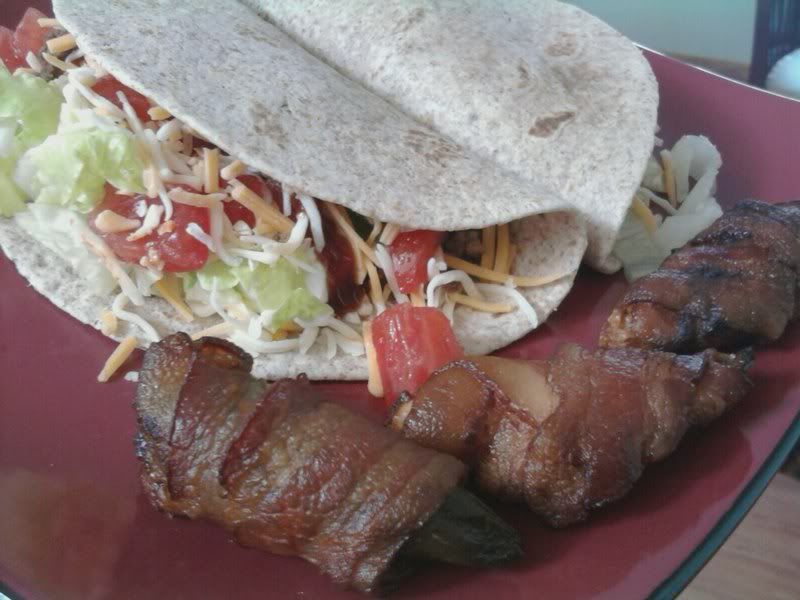 I apologize for lack of cook picks on these but, sometimes the camera gets forgotten about.
Thanks for looking!