Deep in the Sauce
It's about sauce, food, & everything else.
| | | | |
| --- | --- | --- | --- |
| Not really Fatties, I'll call them Skinnies! | | | |
Written by Tom
Friday, 27 January 2012 08:01
Mmmmmm.... Sandwich....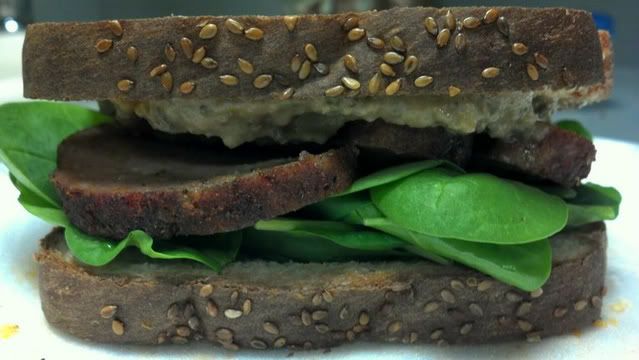 In my continuing quest to shrink myself (which has been successful so far) and wanting to cook somethings like I normally would, I.E. barbecue, I decided to make up a couple of Fatties. The only problem with this is that obviously whether they are naked or bacon wrapped, they are not the healthiest thing in the world and I could easily destroy one by myself in one sitting. So, how do I make it healthier? I make them with ground Chicken and call them...
SKINNIES!
For the first one, I took out the ground chicken and mixed in a blend of Chicken Dust and Cow Pow. I was shooting for more of an italian sausage flavor on this one.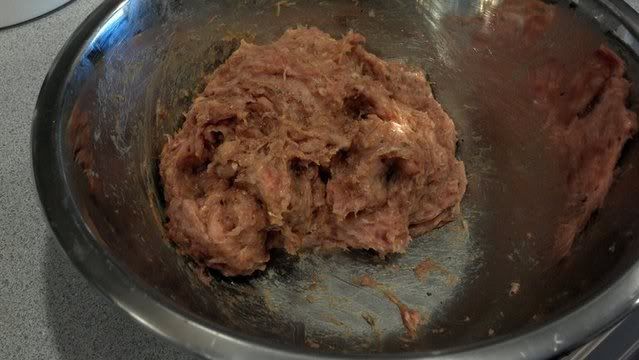 Then, out came the bacon. Yes, it's real bacon. The only way I figured I could use real bacon and still have it be healthier was to use less of it. As you can see I layed out the bacon to only have a slight overlap (Fattiplillar style) and didn't go with a weave.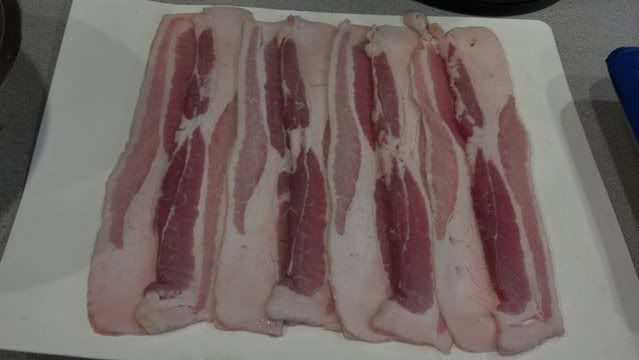 Then I layed out the filling into a tube like shape. before rolling up the whole thing.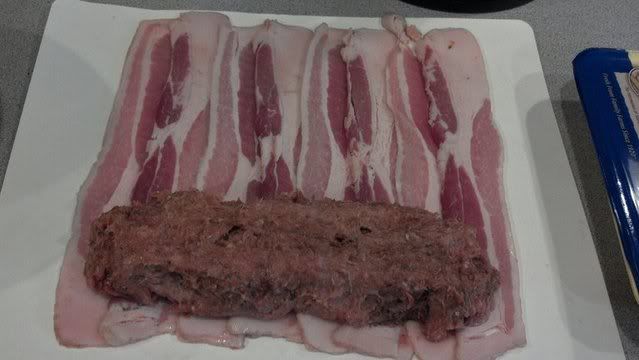 For the next Skinny I wanted to do a naked one. My concern though was that due to the low fat content, it would not hold it's shape. To solve this, I added some bread crumbs to work as both a binder and firming agent. Also a blend of Chicken Dust and Pig Pollen were added. I was shooting for more of a breakfast sausage flavor with this one.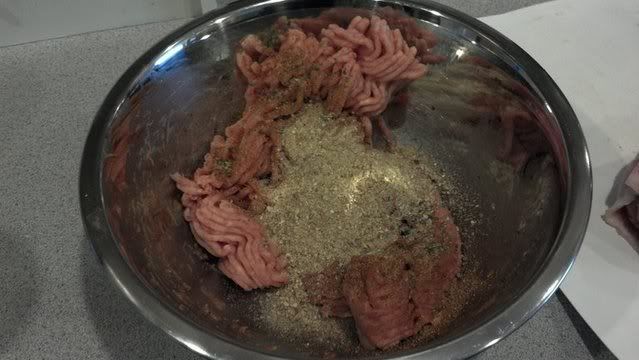 All that was left for the naked Skinny was to form it into a log shape and dust it down with some more Pig Pollen.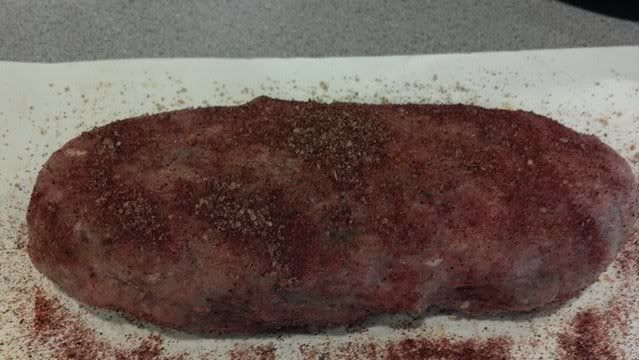 And here they both are, ready to go onto the smoker!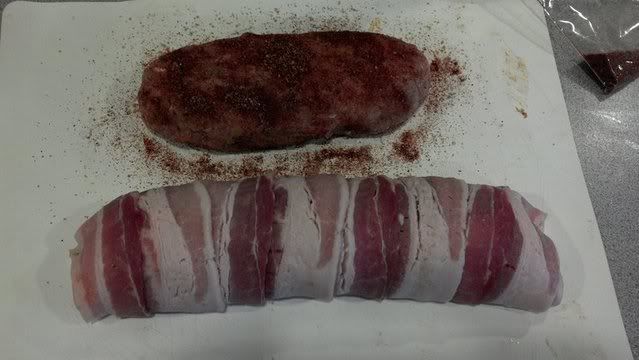 They went onto the smoker and cooked at around 250 for 2 hours 20 minutes. (until the internal hit 165)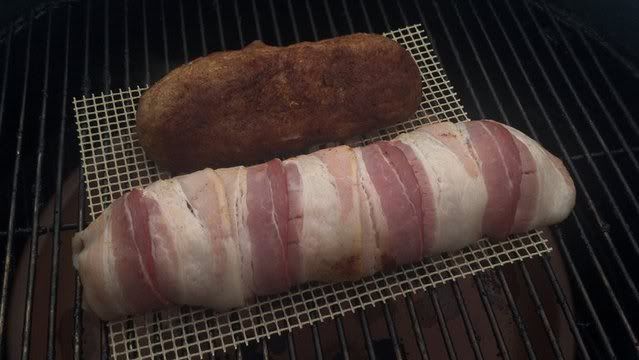 I tried the Nekkid Skinny first. My brain said Fatty! But, my taste buds said, awesome chicken patty! Once the two got things sorted out, I would have to say this was one of the moistest chicken loaves I've ever had, the flavor was excellent but, not nearly as salty as normal Fatty would be.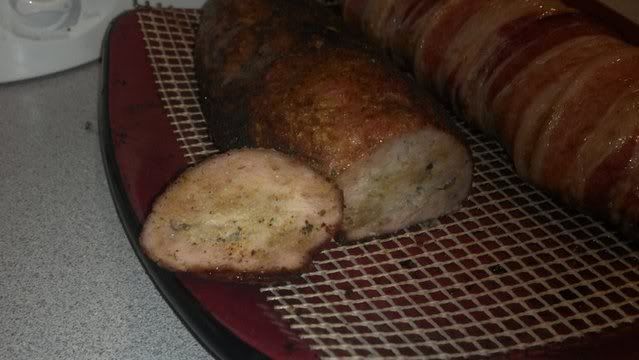 Then it was onto the Bacon Wrapped Skinny. Yet again, my brain said Fatty! But my taste buds said, this is like every bacon and chicken combo ever had in any form, times 2! The tastebuds won out on this one, this was that perfect combo of chicken and bacon but, slow cooked with a nice subtle smokey flavor to it. The chicken was super juicy and I could have destroyed the whole thing immediately. This once again proved, bacon does make everything better.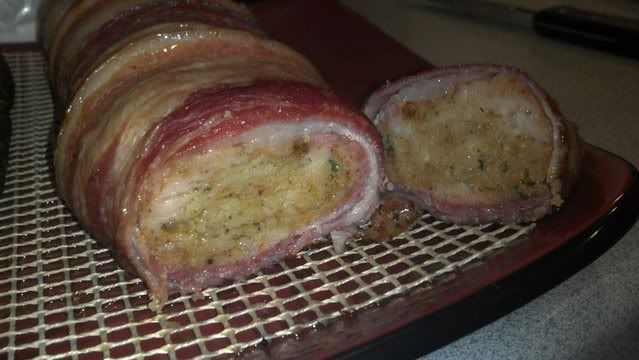 Now, what to do with them??? Make sandwiches, of course! I've been craving Hummus bad lately and I took this as the perfect opportunity to make some up. I can't take full credit for my hummus recipe, it's a conglomoration of 8 other ones I've seen online over the years. This is what I went with this time around.
Black Olive and BBQ Sauce Hummus
1 Can Drained Chick Peas
1 Tbs Minced Garlic
2 Tbs Parsley
1 Tbs Lemon Juice
1 tsp Lemon Peal
1/2 Can Drained Small Black Olives
1 Tbs BBQ Sauce
Dash of Kosher Salt
Couple Grinds of Black Pepper
1/4 cup Water or Chick Pea Juice
Olive Oil
Grape Seed Oil
Combine all the ingredients in a Food Pro or blender except the Oils. Process until it forms a paste like consistency (won't be perfectly smooth) then slowly add oil, alternating between the both, while continuing to process until it acquires a mayonaise like consistency. This will usually require about 1/3 cup of oil total.
I spread some of the hummus on some toasted bread, added Skinny slices and some spinach.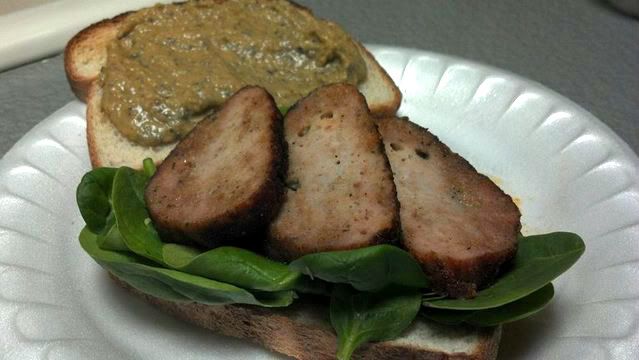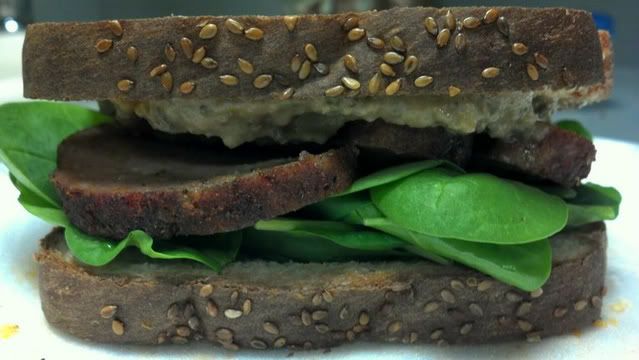 This is a killer sandwich! I can't even begin to adequately describe how all the flavors combine and dance around on your taste buds. All I know was that, as soon as it was done, I immediately wanted another one.
Thanks for looking!